Let's be real.
Planning a wedding is no fairy tale. Sure, there are exciting bits like finding your awesome venue or nailing your wedding look. But there's also a hefty to-do list when it comes to creating a killer day.
And on that list is a super important to do: Find a s*** hot marriage celebrant who gets us and who'll make sure our wedding preparations run smoothly and stress-free.
No idea where to start? Read on!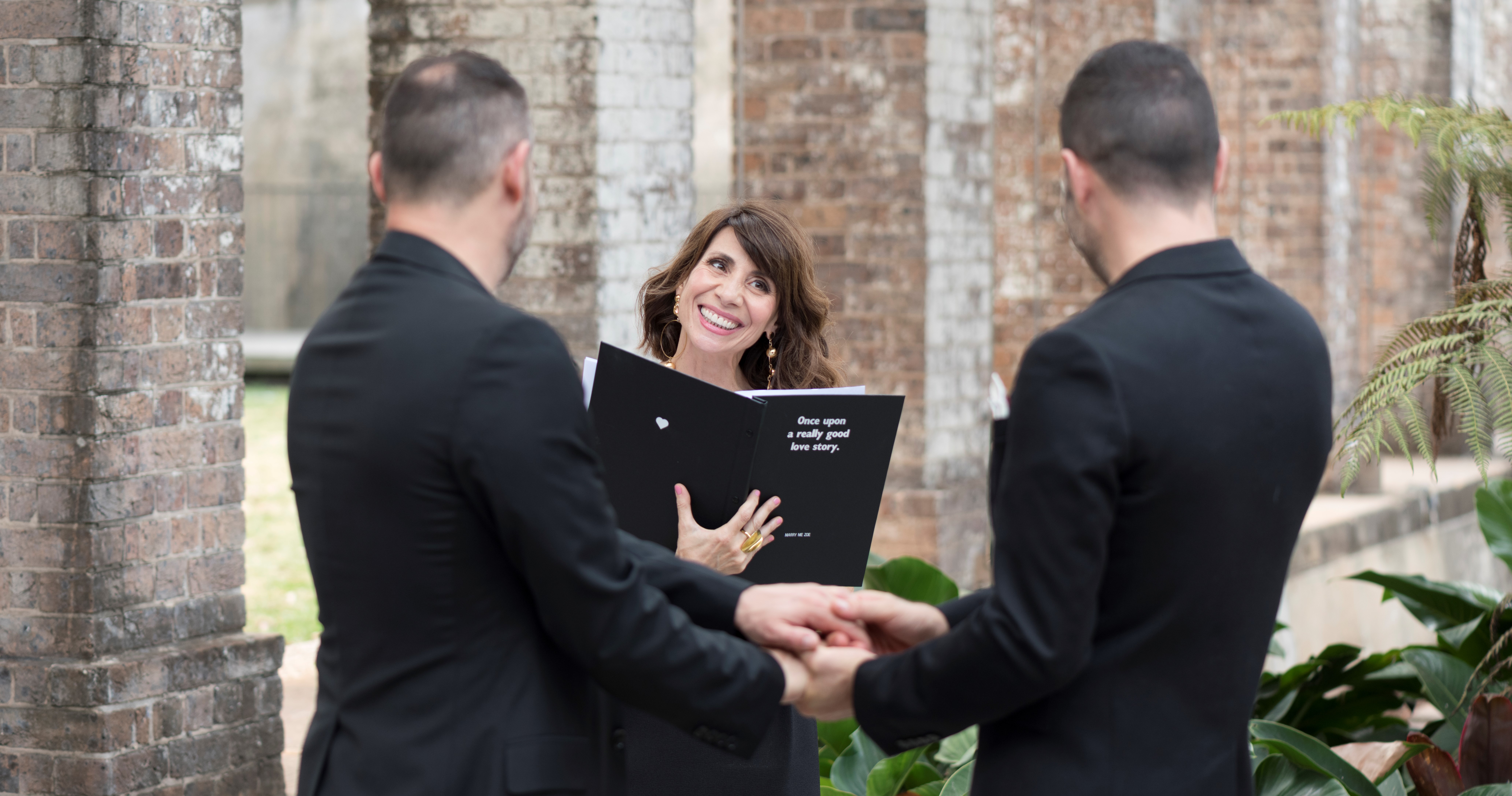 Nail your ceremony brief.
You can't know who the right celebrant is until you have an idea of the kinda ceremony you want. If you've never been hitched before you're probably thinking: How the hell should we know? Do not fear. Follow these instructions below.
Grab your lover, grab a drink and grab a comfy place to sit together for a super-chill wedding brainstorm sesh. Delegate a note-taker and a drink and snack supervisor and hit yourselves up with these questions:
Ever sat through a ceremony that felt so tedious you couldn't wait for them to kiss already so you could get to the fun part? What sucked about it? Write it down!
What about a wedding ceremony that hit you in the feels and had your jaw aching from all the laughter? Now we're talking. What did you love about it?
Wanna elope, go all micro with say 20 people or do you want the whole tribe?
Where do you sit on the tradition spectrum? Wanna flip them and reverse them or keep the classics?
Next, what about the vibe you're after. A modern and exciting wedding? Wanna get creative? Have an upbeat vibe that brings all the feels too? Then you'll need to pick a celebrant that is ready to run with whatever you're throwing down.
Looking for something super romantic with poetry and lots of tradition? You'll need a celebrant that can bring that old world charm to life!
Take a look at your notes. Ta-dah! There's your brief for your civil wedding celebrant.
Now get your

research on!
Now you know how you wanna rock your wedding, it's time to play perfect match. You're gonna make a celebrant short-list!
Go online and check out some wedding directories like The Celebrant Society, Easy Weddings, Wedshed and Dancing With Them.
Google celebrants in your area or where you're getting married and use words that describe the kind celebrant you want: modern, fun, exciting, non-traditional!
Nothing like a recommendation right? So ask your tribe if they've seen any celebrants that rocked their world. Do a stalk on the socials and their website. How do they write? How do they look?
If you come across someone you like the look and sound of, ask yourselves: Do they fit our brief? What does the celebrant offer? Then, make a shortlist of about 5 or 6 potentials! It's not just about the wedding day. You'll want a celebrant to make it fun and easy in the lead up to your big day too!
It's a helluva ride this crazy thing called weddings so you wanna get every damn bit of joy there's on offer.
Check out the process of the celebrants on your shortlist. Do you get lots of time together? Do you get the feeling they love what they do? Cull your list to about 2 or 3 based on how they do things.
Check out my process leading up to your big day right here. I'm an out and proud wedding nerd so be prepared for a lot of questions about your big day vibe and style.
Ask all the

right questions

on the blind date.
You've compiled your shortlist, so now it's about getting together with your potential celebrants for a bit of a blind date. Zoom is a good first date but if you'd rather check them out IRL and have the time, go for it!
Most likely, your celebrant will have a tonne of questions about the both of you and the kinda wedding your hearts desire.
But if you're gonna be picking "the one", there are some important questions you can ask your potential new marriage celebrant.
Here's some to start you off:
---
What are your fees and what do they include?
How can you help us with the planning process?
Are you an inclusive celebrant? Abso-freaking-lutely is the only answer here!
What is your process when it comes to creating our ceremony? - With me, it's all about collaborating so that it's packed full of "totally you" bits.
How will you personalise our ceremony to reflect us as a couple? My fave bit!
What will you wear on the day? My fave question. I'll also be asking you!
What do you want to know about us as a couple? – I'll wanna know everything but I'll be asking about how you met, what makes you both happy and other fun bits like that!
Do you have insurance? – Don't worry I've got this covered (Super-profesh organiser remember).
Do we need a ceremony rehearsal? – This is completely up to you and it depends on what we're doing on the day and how many are in your wedding tribe!
What do you do on the day? So much, including performing the ceremony, being your hype girl and guest experience manager ;)
Can you help us with a Plan B if the weather isn't playing nice? I'll definitely be pushing hard for a Plan B.
Can you help us write our wedding vows? I got you. Don't you worry.
Go with your gut!
Some couples might possibly meet with one celebrant and will book them in straight away. Others will meet a bunch of celebrants before settling on the one that makes them feel awesome!
Just like your wedding, it's all about you, so do what works for you boo! Need a couple of meetings to decide? That's cool. You've gotta feel confident!
And if your gut is telling you, "Yes this celebrant gets me and gets my wedding vibe" then there's an excellent chance you've found the one to pronounce you happily hitched!
Good luck out there! If you want to have a chat to check out how I do things, I would love it. Get in touch right here. Helping out lovestruck couples is my favourite way to roll.
Hit me up lovesters xx