Meet Jordan Weaver - Wedding Planner
What started as a "side hustle" when travelling the world as a publicist, quickly became a dream career for this uber-talented human. She waved goodbye to corporate life and took a leap of faith doing what she loved: planning and styling weddings. Earlier this year she set up Jordan Weaver Events and she's here to help us answer the question:
How do I start planning a wedding?
Wedding Planner, Wedding Stylist, On the Day Wedding coordinator. Are they all the same thing?
Good question! They're all distinctly different and in fact, knowing which role is which is one of the keys to a stress-free wedding day!
A planner is a 'project manager' for your wedding day, overseeing and bringing together all the behind-the-scenes elements for the day. Your planner is responsible for sourcing and managing elements such as your venue, your celebrant, your caterer, entertainment, photography, videography, transport, accommodation, hair and makeup and cake amongst many other things. Then there's the personal side of the role which is one of the parts I love the most! As a wedding planner I work with gorgeous couples at one of the most exciting times of their lives, acting as a sounding board for their ideas, a source of inspiration, comfort, reassurance and if I'm honest, sometimes an open ear if they just need to have a rant about their family or in-laws!
On the flip side, a wedding stylist works on the visual side of the day, bringing together all the elements to make your day look incredible.
The process of styling a wedding can be just as technical and involved as the planning side. A stylist needs to use their visual attention to detail, their creative eye and their talent for event design to create the look and feel you're after. This includes creating your mood board and your full styling blueprint as well as sourcing all the visual elements needed to bring your day to life. We're talking furniture, linen, candles, cutlery, crockery, glassware, napkins, menus, place cards, signage and of course florals. Your stylist will then oversee the set up and pack down of the wedding on the day so you, your family and friends don't need to do a thing!
And finally, the role of wedding coordinator. A lot of people don't know this role even exists!
A wedding coordinator will generally work with a couple from around a month out from the wedding. While a wedding planner works with a couple from the beginning of the planning process and helps them source and secure all their key wedding suppliers, a coordinator works with the couple once they have secured their suppliers and helps oversee the day itself. When I'm coordinating for a couple I'll help them put their wedding day run sheet together, liaise with all their suppliers to reconfirm delivery and installation times and I'll be there on the day to ensure everything goes according to their plans.
I'm a planner, stylist and coordinator so I cover all three roles and love the versatility that brings!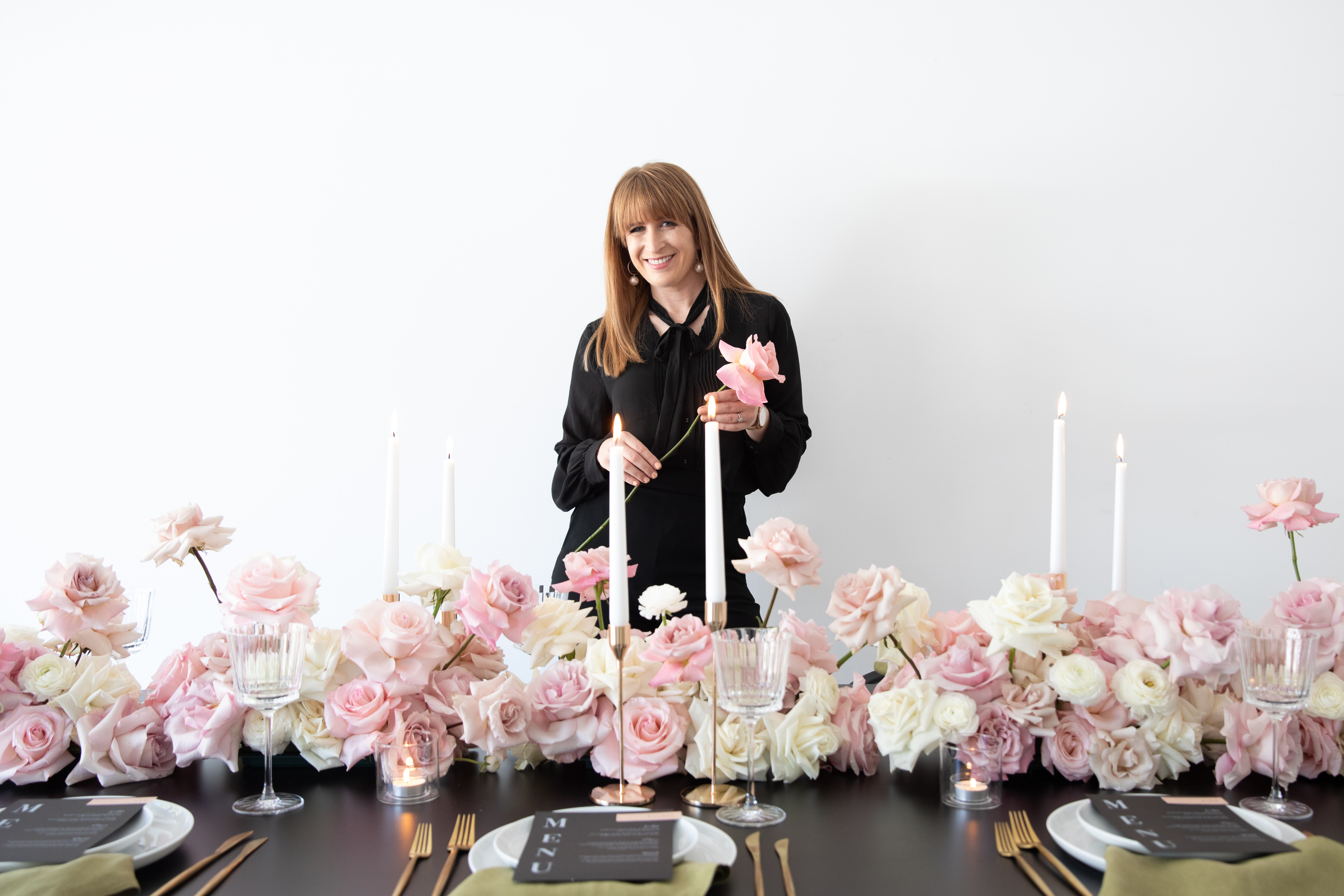 I often get "I don't where to start" from couples when it comes to trying to figure out the theme and style of their wedding. Got any helpful tips?
This is one I hear all the time as well and it can be really overwhelming when you're just starting out.

When I'm styling for a couple I spend a lot of time getting to know them, their likes and dislikes before we even think about choosing a styling concept.
I'll ask them to describe the atmosphere they want to create in just a few words. It could be anything from 'breathtaking, black tie, countryside' to 'relax, coastal, party' or 'cozy, wintertime, woodland.' Narrowing down your ideas to just three words can really help give you clarity and a starting point.
If they haven't already, I encourage my couples to start a Pinterest board and pin anything and everything they like. Don't filter, just pin! Then when it comes to creating their mood board we go through the images together and more often than not, some patterns will appear.
It might be a certain décor style or colour palette, some statement signage or a floral style.
Once you have narrowed down your favourite images I highly recommend creating a mood board of 6-8 images that summarizes your concept and colour palette. This helps you to really cement the look and feel you want to create and is invaluable when you're liaising with your florist or your stationery designer or even choosing colours for your bridesmaids' dresses. What's your process working with a couple?
It varies from couple to couple depending on which elements of their wedding they would like my support with, planning, styling, or coordination, but generally speaking, they will get in touch with me via email, phone, Instagram, Facebook or via my website and we'll arrange a complimentary call to discuss where they are with their planning or styling and the particular areas they're feeling stuck or would like help with. I'm all about personalization and nothing I do is 'off the rack' or cookie cutter so this initial call allows me to put together a custom package that suits the couple down to the ground!
Once we've confirmed their package and all their inclusions I lock their date into my calendar and we get straight to work on their planning, styling or coordination!
Oooh, this is a big question! Each wedding is different and my role varies greatly depending on the couple but generally speaking, if I'm styling the wedding, my team and I will be at the venue early (sometimes as the sun is coming up!) to set up the ceremony, the cocktail area and the reception space. This can be a huge undertaking and involves everything from setting up tables and chairs to folding napkins, setting menus and place cards, lighting candles, positioning signage and everything in between. Then, of course, we're back at the end of the night to pack it all down again!
If I'm planning or coordinating the wedding I'm the central point of contact for the couple, their guests, the venue and all suppliers, overseeing the entire running of the day to ensure everyone is where they need to be, on time, and that the day unfolds seamlessly. As to exactly what this looks like, that's always different! Chances are though, you'll find me with my run sheet and walkie talkie in hand, reconfirming arrangements and timings with the catering team, advising the band on the best positioning for their set up, ensuring the cake is correctly stored, greeting the celebrant, ushering guests to the ceremony area and assisting the bride as she gets ready to walk down the aisle. Throughout the night I'm overseeing everything behind the scenes so the couple and their guests are able to relax knowing even the tiniest of details is taken care of!
---
Got any "common mistakes" to avoid?
One of the most common mistakes I see is couples not setting a budget and rushing in without factoring in all costs. Boring I know, but believe me, by setting a realistic budget from the get-go you're saving yourself a lots of stress and heartache further down the track! I particularly see this with 'blank canvas' weddings (weddings where you hire just the space or property and have to source everything yourself).

Couples tend to think 'blank canvas' weddings are more affordable but when you factor in the hire of furniture, catering, florals, lighting, heating, bathrooms, rubbish removal and more, it all adds up. I recommend setting your budget at the start of your planning process so you don't end up overextending yourself or having to sacrifice things from your day further down the track.
Any awesome tips for couples planning their wedding?
My biggest tip is don't be afraid to delegate! Whether that's to your friends, family or a professional wedding planner, stylist or coordinator. Planning your wedding should be a joyful and positive experience and when I work with a couple my primary priority is that they and their guests have an incredible, once-in-a-lifetime experience. I want my couples to be able to fully immerse themselves in their day and the peace of mind they get by having an expert on board to bring it all together, is priceless!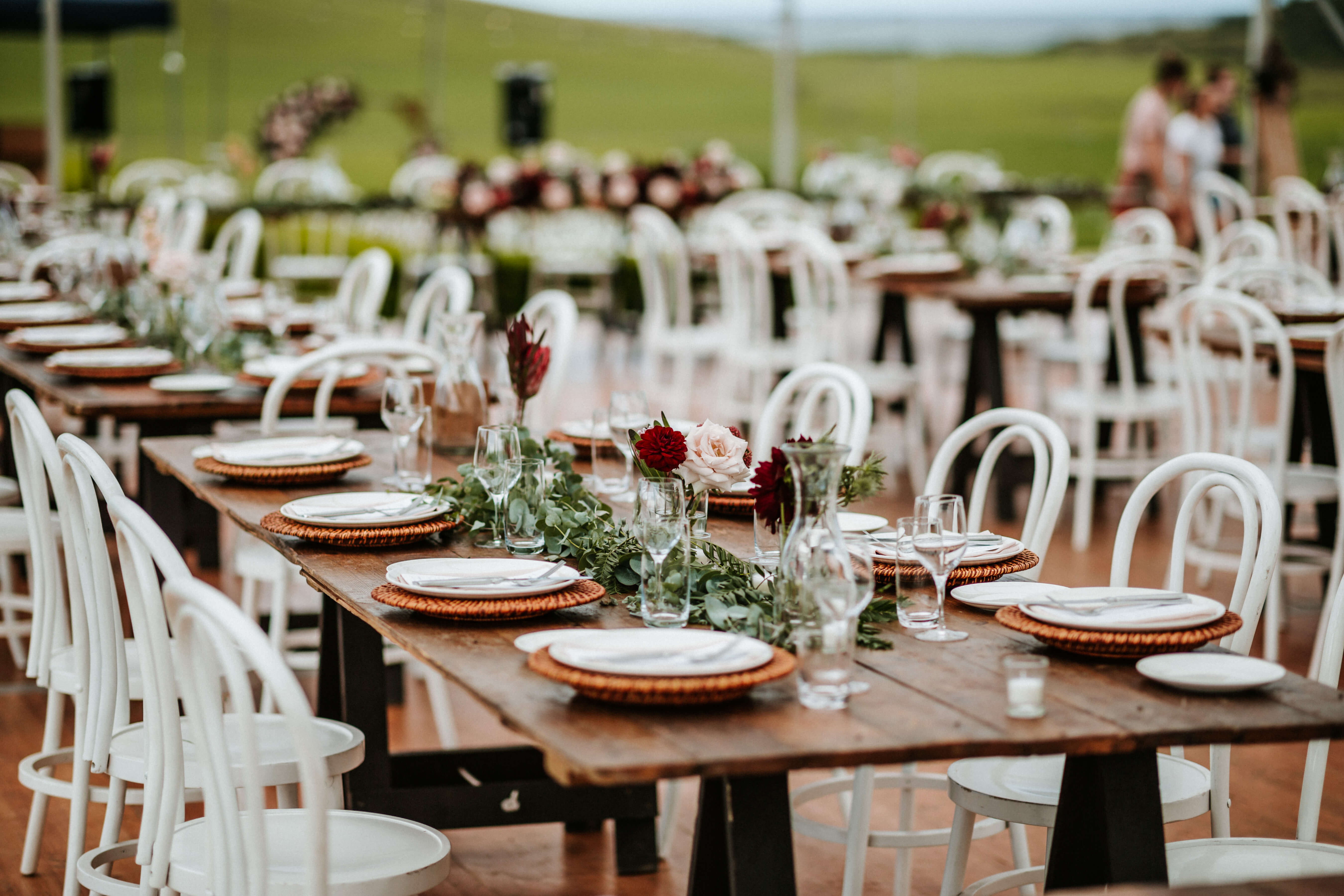 ---
What's your mojo?
My corporate event planning background means I take a different approach to many other wedding planners out there. When you work with me, it's all about the details! I love a spreadsheet, I'm all for quick response times (particularly when it comes to emails!), I'm a planner through and through and nothing is left to chance! In terms of the couples I attract, they vary. They may be extremely organized themselves and see a kindred spirit in me, or planning and styling may not be their strong suit so they would prefer to have someone else manage those elements of the day. Ultimately, working with a wedding planner or stylist is more than just how they do their job. You've got to gel with them and for me, getting to know my couples, their background, their story, their families, it's one of the parts of my job I love the most!
---
---
And finally...what is your one gold nugget of wisdom for couples?
My biggest piece of advice for the day itself is always remember why you are there. To marry the love of your life in front of the people you love most in the world. When it comes down to it, that's always going to be the most important thing. Cheesy but true!
Wanna get in touch with Jordan? Email her at jordan@jordanweaverevents.com.au
---
---
Just for fun
Favourite colour combo ever?
Oooh, right now I'm loving neutral tones. Nudes, lattes, sand, mocha and toffees. But 99% of the time you'll find me wearing either black or white!

If you weren't a wedding planner you'd be? When I was much younger I worked as a radio newsreader for a year but for now, my wedding podcast, Plan.Style.Do gives me enough time behind the mic!

Mountains or ocean?
Oooh, probably ocean but it's a close one!
Fave comedy show on TV, that makes you "can't breathe" laugh?
Not strictly comedies but I'm obsessed with Killing Eve and Fleabag and Phoebe Waller-Bridge's witty, acerbic humour.
Popcorn or ice cream at the movies? Ummm, a choc top, always, obviously!
---